CRACK X SHRINK FREE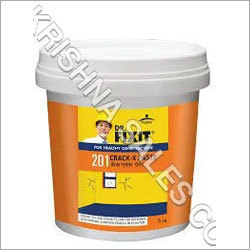 CRACK X SHRINK FREE
Price And Quantity
Product Specifications
Waterproof Membrane

Plastic
Product Description
Method of Application
1 SURFACE PREPARATION
Surface must be free from dust, oil, grease, and loose particles, etc. moisten the surface before applying Dr.fixit Crack-X Shrinkfree.
fine hairline cracks must be widened upto 1 mm minimum and then filled.
for filling Dr. fixit Crack-X Shrinkfree on the internal surfaces, existing POP or painter putty must beremoved till plaster surface is exposed.
2 APPlICATION
Press Dr. fixit Crack-X Shrinkfree firmly into the crack One time OnlY with a spatula or putty knife and levelthe surface. handball application can also be used as per the convenience.
Care must be taken to avoid formation of cavities or bubbles during application. allow it to dry in ambient conditions for 5-6 hrs before painting. for best results 7 days air curing is advised further POP or painters putty application can be taken up once it is fully dry.
3 ClEANINg Clean tools & equipments by soap & water. Wash hands with soap & warm water.
Contact Us
Shop No.10, Kaushik Complex, First Floor, Near The City Pride Banquet Hall, Hoshiyarpur, Sec.51, Metro piller no. - 223,, Noida, Uttar Pradesh, 201301, India
Phone :09810454509