Conbextra GP2 Cementitious Grout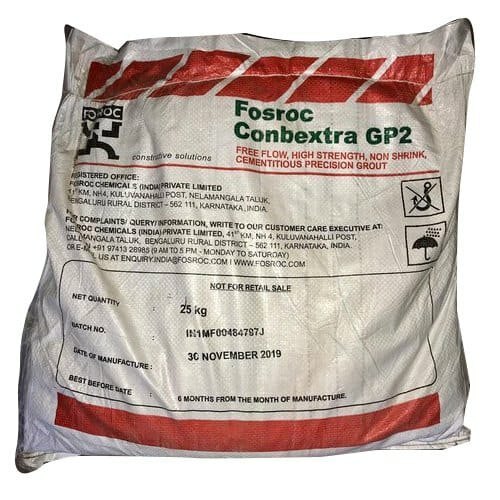 Conbextra GP2 Cementitious Grout
Price And Quantity
Product Specifications
Room Temperature

Industrial
Powder

Fosroc Conbextra Gp2 (25 Kg)
Product Description
Conbextra GP2 is supplied as a ready to use dry powder. The addition of a controlled amount of clean water produces a free flowing, non-shrink grout for gap thicknesses up to 100mm.

Conbextra GP2 is a blend of Portland cement, graded fillers and chemical additives which impart controlled expansion in the plastic state whilst minimizing water demand. The low water demand ensures high early strength. The graded fillers are designed to assist uniform mixing and produce a consistent grout.
Gaseous expansion system compensates for shrinkage and settlement in the plastic state. No metallic iron content to cause staining Pre-packed material overcomes onsite batching variations. Develops high early strength without the use of chlorides. High ultimate strength ensure the durability of the hardened grout. Free flow ensures high level of contact with load bearing area.
Frequently Asked Questions:
1. What is GP2 concrete?
Ans. Conbextra GP2 is a mix of portland cement, graded fillers, and chemical components which impart controlled enlargement in the plastic state at the same time as minimizing water demand. The low water call guarantees excessive early energy. The graded fillers are designed to help uniform blending and convey a steady grout.
2. How do you operate fosroc conbextra GP2?
Ans. The usage of a grout-conserving tank with provision to gently agitate the grout may be required. At 300c area the grout inside 20 minutes of mixing to gain complete advantage of the enlargement system. Conbextra GP2 may be located in thicknesses up to 100mm in one pour whilst used as an underplate grout.
3. What is the shelf existence of GP2?
Ans. Conbextra GP2 has a shelf existence of 6 months if stored in a dry shop in sealed baggage.