BATHSEAL 2K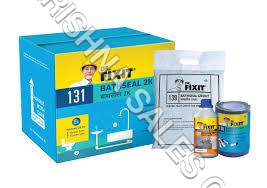 BATHSEAL 2K
Price And Quantity
Product Specifications
Waterproof Membrane

Plastic
Product Description
Method of Application
surface preparation - In sunken portions, which is generally concrete, the areas to be coated with Bathseal 2K, must be mechanicallysurface prepared to remove all lataince & loose particles like cement or mortar deposits, etc.
Oil & grease, if any, must be de-greased with suitable solvents & later washed off with a jet of water and must bebrought to a touch dry state.
Thereafter, cracks & crevices & gaps between masonry & mortar, if any, must be filled up appropriately with cement sand mortar modified with Pidicrete URP.
A 50 mm x 50 mm angular fillet must laid at junction of floor-wall in the sunken portion, in cement-sand mortaradmixed with Dr. Fixit Pidicrete URP.MIXing Shake the liquid component well to a homogenous milky colour.
Always add powder to polymer under constant stirring using slow speed paddle mixer to achieve smooth andhomogeneous slurry.
Allow to stand for about 5 mins to release entrapped airFor new bathrooms.Application of Dr. Fixit Bathseal 2k
Apply first coat of Dr Fixit Bathseal 2K all over the floor surface in bathroom extending on side walls up to 1 mheight covering the angle fillet.
While the coating is still wet place the glass fibre mesh (2.5 mm x2.5 mm) on the angle fillet extending about 50mm on floor surface and 50 mm on walls and allow it to soak completely with material.
Before the coating dries apply immediately another coat of Dr. Fixit Bathseal 2K only on the angle filletcompletely covering the mesh thus embedding it firmly between two coats of Dr. Fixit Bathseal 2K.
Allow the coating to dry completely for 6 to 8 hrs before applying second coat all over the floor area and walls.The angle fillet area now has three coats of Dr. Fixit Bathseal 2K with mesh embedded firmly within the coating.
Allow the coating to dry completely for 3-4 days. Do not cure with water but keep coating moist using we thessian cloth.
Test the efficacy of the coating by conducting ponding test after complete cure after 3-4 days.
Contact Us
Shop No.10, Kaushik Complex, First Floor, Near The City Pride Banquet Hall, Hoshiyarpur, Sec.51, Metro piller no. - 223,, Noida, Uttar Pradesh, 201301, India
Phone :09810454509